Family Connections™ Leader Liaison
Goal oriented, Organized, Coach (20 hours / week)
The go-to-person for questions from FC Leaders
Creates FC and TLC classes
Develops supportive relationships with Leaders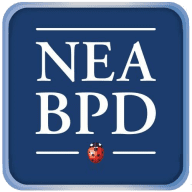 National Education Alliance for Borderline Personality Disorder
The mission of National Education Alliance for Borderline Personality Disorder is to provide education, raise public awareness and understanding, decrease stigma, promote research, and enhance the quality of life of those affected by Borderline Personality Disorder and/or related problems, including emotion dysregulation.
NEABPD serves the Borderline Personality Disorder (BPD) community at large through building awareness and providing the most current information and research on the disorder. NEABPD serves professionals, persons in recovery, and families impacted by BPD.
NEABPD's main program is Family Connections™, a training program for families with a loved one dealing with BPD. Family Connections™ is a free 12-week course that meets weekly to provide education, skills training, and support for people who are in a relationship with someone who has BPD.   Focusing on issues that are specific to BPD, it is hosted in a community setting and led by trained group leaders who are usually family members of relatives with BPD. Dr. Alan Fruzzetti and Dr. Perry Hoffman developed the course based on their research as well as their significant professional expertise in counseling people with BPD and their loved ones. Family Connections™ provides: current information and research on BPD and on family functioning; individual coping skills based on Dialectical Behavior Therapy (DBT); family skills; and group support that builds an ongoing network for family members.
Summary
The Leader Liaison will serve as a resource to our trained Family Connections™ leaders forming new classes, answering leader questions and implementing a leader support, mentoring and retention plan. The person will work remotely on their own schedule and be in contact with the team via phone, email and video conference calls.
Duties and Responsibilities
Serve as central point person for Family Connections™ Leaders.
Build relationships with Family Connections™ Leaders to help them effectively form and lead classes.
Develop plan to support and mentor both new and experienced Leaders.
Monitor Family Connections™ Leaders' progress and completion of required information to run effective classes.
Work with the Family Connections™ team to develop a process for Leader Training and ladder of growth for Leaders.
Serve as point person for Leader questions while forming and teaching classes.
Help standardize Family Connections™ materials and maintain quality control.
Collaborate with Education Committee to determine needed policies and procedures to support the success and growth of Family Connections™.
Perform miscellaneous job-related duties as assigned.
Minimum Job Requirements
Bachelor's degree; at least 5 years of experience working directly with program development and/or implementation and with clients, customers or students.
Minimal travel to Leader Trainings and Weekend Intensives may be required.
Knowledge, Skills and Abilities Required
Knowledge of Family Connections™ is helpful in this role. Will train for the right candidate.
Ability to solve.
Ability to communicate effectively with FC team, Leaders, and volunteers.
Skill in the use of personal computers and related software applications.
Skill in organizing resources and establishing priorities.
Strong interpersonal skills.
Ability to interact with staff, volunteers and our leaders in a team environment.
Working Conditions and Physical Effort
No or very limited physical effort required.
No or very limited exposure to physical risk.
Work is normally performed remotely.
To apply please email cover letter and resume to abby@neabpd.org. Please include your name and FC Leader Liaison in the subject line of email.