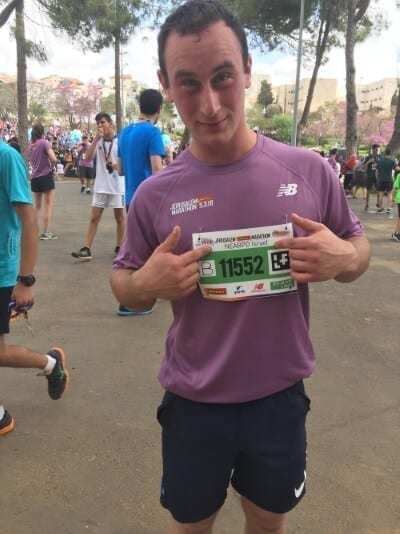 .השנה בינינו היקר, נתנאל, בחר לרוץ במרתון ירושלים עבור הארגון הישראלי החינוכי עבור טיפול בהפרעת אישיות גבולית משך שנה וחצי האחרנה הוא כבר רץ אלפי קילומטרים בצבא, אך כפי שהוא מספר – באנגלית במילים שלו למטה – המרוץ
.הזה מיוחד במינו ועבורו
.נא לתמוך בו ביד נדיב כדי שנוכל לשפר את חיי עוד בני משפחה
I have decided to run in the Jerusalem marathon this year (March 9, 2018) to support the Israeli NEABPD – The National Educational Alliance for Borderline Personality Disorder, Israel.
Over the last year and a half in the IDF, I have run thousands of kilometers in full combat dress, but these kilometers will hold a special place in my heart. As I run up and down the hills of the city where I was born, the city of David and Solomon, of the Holy Temple, my heart will beat to the rhythm of Jewish history.
At the same time, my heart will also beat for those suffering from Borderline Personality Disorder (BPD). Those, like my sister, who suffer from BPD run a marathon every day, struggling with their emotions and battling their fears, as they strive to lead a life worth living. Tragically, ten percent of those sufferers end their own lives. Many others lead exceedingly difficult lives burdened by their enduring pain, emotional dysregulation, and deficit in relationship skills. Compounding this is a devastating stigma that often leads to inadequate treatment and care. As my family has learned, with appropriate care and support, however, BPD sufferers and their families' lives can be changed.
My parents along with mental health professionals and other family members of BPD sufferers established the Israeli NEABPD to help both the family members and the sufferers. Having witnessed the effect of the disorder on the various members of our own family, my parents felt that it was crucial to help other parents and family members obtain the necessary knowledge, skills, and support so that they could effectively help themselves and their loved ones. By helping family members "put on their oxygen masks first," the Israeli NEABPD empowers family members, helping them understand and better cope with the challenges they face, so that they can improve the quality of their own lives and so that they can advocate effectively for their loved ones. Please help me help all of them by supporting me and forwarding this email to others who might support this cause: http://www.neabpd.co.il/en/charity/
With all my heart,
Netanel